vol. XVI (2019), nr 2

EASTERN HUMANISTIC ANNALS
"One inseparable and indistinct body."
Studies in the history of the Polish-Lithuanian Commonwealth
edited by Artur Goszczyński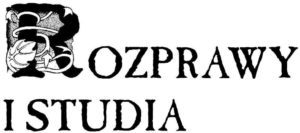 Paweł Jusiak (Uniwersytet Marii Curie-Skłodowskiej), The clerical and parliamentary careers of the Żółkiewski family of the Lubicz coat of arms in the 16th-17th centuries.

Janusz Dorobisz (Uniwersytet Opolski), The careers of the cleric dignitaries of the Crown during Vasa times.

Artur Goszczyński (ToNiK "Libra"), The public and personal affairs of Grand Standard Bearer of the Crown Aleksander Koniecpolski (in the period until 1648).

Paweł Duda (Uniwersytet Śląski), "His Holiness thinks that war should be continued, especially when there's hope for final victory". Activities of Papal diplomacy during Polish-Turkish conflict of 1633-1634.

Aleksandra Ziober (Uniwersytet Wrocławski), Kazimierz Jan Sapieha as a personal model of a magnate in the light of Sapieha Life by Kazimierz Kognowicki.

Ivan Gavryliuk (Uniwersytet Warszawski), Unknown page of known war: hunger among Cossack and Crown armies during first years of Bohdan Khmelnytsky's Uprising.

Leszek Wierzbicki (Uniwersytet Marii Curie-Skłodowskiej), The Masovian Voivodship's deputy sejmiks and their deputies to the Crown Tribunal in the years 1660-1700, "Wschodni Rocznik Humanistyczny" vol. XVI (2019), no 2, pp. 133-142.
DOI: 10.36121/LWIERZBICKI.16.2019.2.133
Zbigniew Hundert (Zamek Królewski w Warszawie – Muzeum), Political and military activities of the Crown Ensignand the voivode of Kiev Andrzej Potocki in the years 1667–1673.

Witalij Nagirnyj (Uniwersytet Jagielloński), The beginnings of the Chernelitse castle.

Mariusz Sawicki (Uniwersytet Opolski), The Grand Duchy of Lithuania in the reports of Philip Plantamour from Berlin from 1700–1703.

Filip Wolański (Uniwersytet Wrocławski), The place of Ruthenian lands in the historiography of the Polish-Lithuanian Commonwealth in the 18th century. Selected aspects, "Wschodni Rocznik Humanistyczny" tom XVI (2019), nr 2.

Grzegorz Wrona (Uniwersytet Marii Curie-Skłodowskiej), Saltwork issues in the treasury contracts for Sambor crown estate from the second half of the 17th and 18th century.
Violetta Machnicka (Siedleckie Towarzystwo Naukowe), Barbara Stelingowska (Uniwersytet Przyrodniczo-Humanistyczny), From Ch.Pasek to B.Prus. On biographical and literary relations of the "strong men of the pen" with Eastern Poland.
Daniel Sawicki (Biała Podlaska), The main assumptions of reforms of the Old Ruthenian musical notation on the example of the theoretical treatise of Ivan Szajdurow.
Varia
Grzegorz Gałęzowski (Instytut Pamięci Narodowej, Lublin), Enterprise Content Management w Polsce, "Wschodni Rocznik Humanistyczny" tom XVI (2019), nr 2.
Enterprise Content Management in Poland.